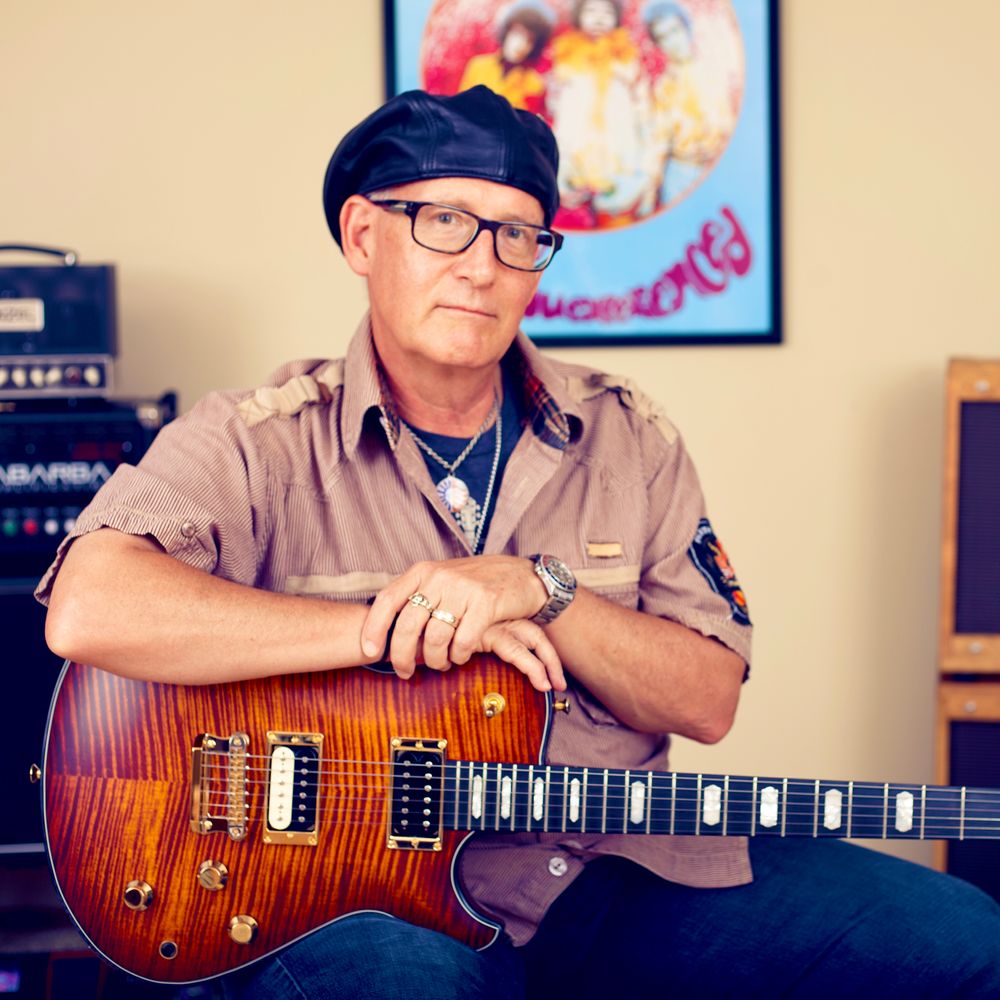 Jimmy Ryan
Chicago-based Electric Guitar legend
We are pleased to announce the signing of Jimmy Ryan, legendary Chicago-based Blues/Rock guitarist, to the growing artist roster at Salvatori Productions. 
Known for a focus on harmony lead guitar work with brother Johnny, Jimmy has a rich history of recording and performing original Blues/Rock (along with some really great covers…) across Chicagoland and the Midwest with their band, The Flyin' Ryan Brothers, as well as his solo releases, over the years.
With our signing, we have captured the quieter side of Jimmy's composing and playing skills by announcing the release of his all-instrumental "The Healing Guitar" album, which features a more contemplative side of Jimmy, along with long-time band mate and percussionist Dan Van Schindel, in the studio. 
And, while we were at it, we also showcase Jimmy's new works smack dab in the middle of nature by creating a 28-minute 'Healing Guitar in Nature Suite' certain to help you get the knots out of your rope…which is slang for meditative and soul soothing.
The Healing Guitar is scheduled for an August 11, 2022 release date, click here to listen and purchase the album.
To learn more about Jimmy and his legacy Blues/Rock/Harmony Lead guitar body of work, please enjoy a visit to his artist website: ryanetics.com
Paul Christian
AAA Heartland Singer/Songwriter, Chicago, IL USA
A native son of Chicago, Paul was born in Berwyn and grew up in Brookfield and then Arlington Heights. Paul is self-taught musically, learning the ins-and-outs of myriad instruments starting at age 13 and patterning his style after his heroes Alex Lifeson of Rush and Jimmy Page of Led Zeppelin. 
Paul played in a few rock bands while growing up - before turning to the solitude of composing..."The Skins," "David and Paul," and bar scene favorites "The Dangerous Joe's" before marriage and fatherhood caught up with him. After kids, to keep a connection to his music interest, he formed a family band "Punching Rubber" which featured his daughter on clarinet/sax and his son on guitar, all the while periodically jotting down song ideas in his private little notebook.  
Paul currently resides with his family in the Lincoln Park area of Chicago.
Enjoy reading another wonderful review of Paul's That's Everything Album - visit SomethingElseReviews.com
Please visit Paul's website PaulChristian.Rocks for news, updates on releases and to obtain free copies of the 'Words and Music' for Paul's songs
Enjoy the recent review and in-depth interview about our very own Paul Christian on music e-Zine Music Web Express: mwe3.com
Gustavo Acioli - Buda and the Monks
R&B/Soul Singer/Songwriter, Rio De Janeiro, Brazil
Buda. It started as a nickname during his High School years for Gustavo Acioli...a term of friendly affection for a chubby little boy with a big smile and small, squinty yet sparkly eyes. Being that he hasn't changed much since then, Gustavo's nickname stuck, because everyone still today knows him as Buda, everyone sees him as Buda, and everyone remembers him as Buda.   
It was back into his earlier years though that little Gustavo fell in love with music and started writing his songs while learning to play the guitar. He grew up divided between two loves actually…first rock-'n'-roll and then second, music that informs the very heartbeat and pulse of his native land…Brazilian bossa nova. When Gustavo played his rough and distorted rock music, he felt little pangs of guilt; as if he was betraying his own Brazilian roots. And then on the other hand, anytime he would play the cool bossa nova rhythm of his homeland, he felt like he was betraying himself. A dilemma became evident as Buda grew up and various music genres began to inform his influences. He noticed that there was something missing in rock-'n'-roll too…a kind of swing he could only find in Brazilian music...
It took some time for Buda to carve out his unique and individual style. As his deep dive into American music continued, he began to feel a kindred connection to soul and funk music. When he started to fall in love with those genres, he began to discover an answer to his dilemma: that funk and samba are close cousins…branches on the same family tree. He soon figured out that if he could 'swing' like a Brazilian while playing soul music, the funky groove he started to feel would work for him like the samba drums.
Buda indeed crosses several genre lines to connect with rock-'n'-roll, funk, soul, bossa nova, swing  and samba. And, in developing his own unique style, Buda puts a finger on the intersection of these genre lines and then proceeds to tie them all together in a neat little bow to produce his first recording that now formally and rightly introduces the world…to the music of Buda. Enjoy.
Please enjoy visiting Buda.Rocks for updates.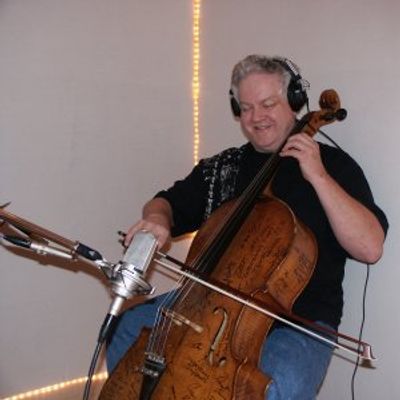 John Catchings
String Arranger and 'Cello, Nashville, TN USA
John has contributed string arrangements and has played the cello on dozens Tom Salvatori and Iris Litchfield tracks. A fixture in the Nashville Music scene, over the years John has organized arrangements and has introduced us to the best string quartet players available for our Nashville-based recording sessions.   
Iris Litchfield (1938-2014)
Grand Piano Composer, Bromley, UK
Iris was a mathematician turned composer and possessed a First Class Honours degree in mathematics from London University. She started playing the piano at the age of 5, back in the day when music teachers used to hit the hands of students every time a wrong note was played! In spite of this, Iris passed all the practical exams for the piano and clarinet.  
 
Upon retirement from teaching Mathematics, Iris turned her attention to piano composition, and throughout her retirement years, she wrote beautiful and timeless contemporary classical piano music. In addition to her compositions released by Salvatori Productions, Iris had music released on CD's in the UK, USA, France, Germany, Holland and Korea. She also composed for Northstar Music, UK.  
"Working with Iris as a music partner and as her producer over the years was an extraordinary honor. And introducing her piano music to new audiences brings a fresh, clear voice of reason to the conflicted world we live in; a mature voice assured with sincerity, warmth and hope.

If ever you seek a place of solitude for reflection and respite, listen to Iris' music. It will elevate your spirit and bring peace to your heart. If you tell your friends about Iris' music, and then they tell their friends, surely it can become a catalyst for spreading peace across the continents.

Timeless in its styling, warm and tender in its delivery, Iris' quiet instrumental piano compositions represent a singular beacon of hope in the troubled world wherein we exist." 

- Tom Salvatori, Salvatori Productions, Inc.
Enjoy visiting our website dedicated to memorializing Iris' work: Iris Litchfield.com
Enjoy reading Iris' 2013 interview with Kathy Parsons at MainlyPiano.com 
Tom Salvatori
Contemporary Classical Guitar Composer, Chicago, IL USA
Tom Salvatori composes a deeply personal and intimate style of instrumental Nylon String Guitar music, which is quiet and soothing and helps people relax at the end of the day. Adults and children both listen to and enjoy his music during their quiet time or while they fall asleep at night. Most of Salvatori's music comes out sounding like quiet lullabies; probably because his favorite time to play and to compose is during the late night! 
Tom was a First Place Winner of the Illinois Music Association Senior Open in 1973 in the Classical Guitar competition at the age of 15 under the direction of his high school music teacher, Duane Tutaj. Salvatori exhibited a mature strength in restraint in his performance of the Villa Lobos set piece, Prelude #3. Tom continued Classical Guitar studies while in college (Marquette University) with Ray Mueller, head of the Milwaukee Classical Guitar Society.  
Since college, Tom has chosen a musical path of composing his own uniquely styled works for the contemporary Nylon String Guitar rather than one of stage performance and the study of the works of the Masters.  
Published by Les Productions D'Oz (CANADA) in 2004, Salvatori hopes to share his sheet music book of eleven Guitar solos with guitarists after they come home from playing their concerts: "I don't aim to compete with the masters and their virtuoso efforts from the concert stage. Rather, I'd love for my work to be thought of as a resource for quiet enjoyment...a respite at the end of a busy day. I would be most fulfilled, as a composer, if my work could be enjoyed in an intimate, one-on-one relationship with other players (and fans)…at home, when they decide to reach for just the right music to help them (and their loved ones) relax." 
Visit Tom's website for news, blog posts and to keep up to date on releases: TomSalvatori.com
Enjoy reading a review of Tom's Seven Guitar Miniatures EP release on DMME.net
Enjoy reading a recent review and ind-depth interview with Tom on music e-Zine Music Web Express: mwe3.com
Stream Tom's Music on Pandora 
Michael Salvatori
Producer, Arranger
Yes, we have Mike to thank for the high level production quality as he is likely the only producer in the history of the world to have the patience to record and produce Tom's guitar music! And yes, he's been busy for years with projects much much bigger than Tom 's guitaristic woodshedding - i.e. composing scores for the HALO and Destiny Franchises among others!
Mike's Portfolio of work is featured on his website MichaelSalvatori.com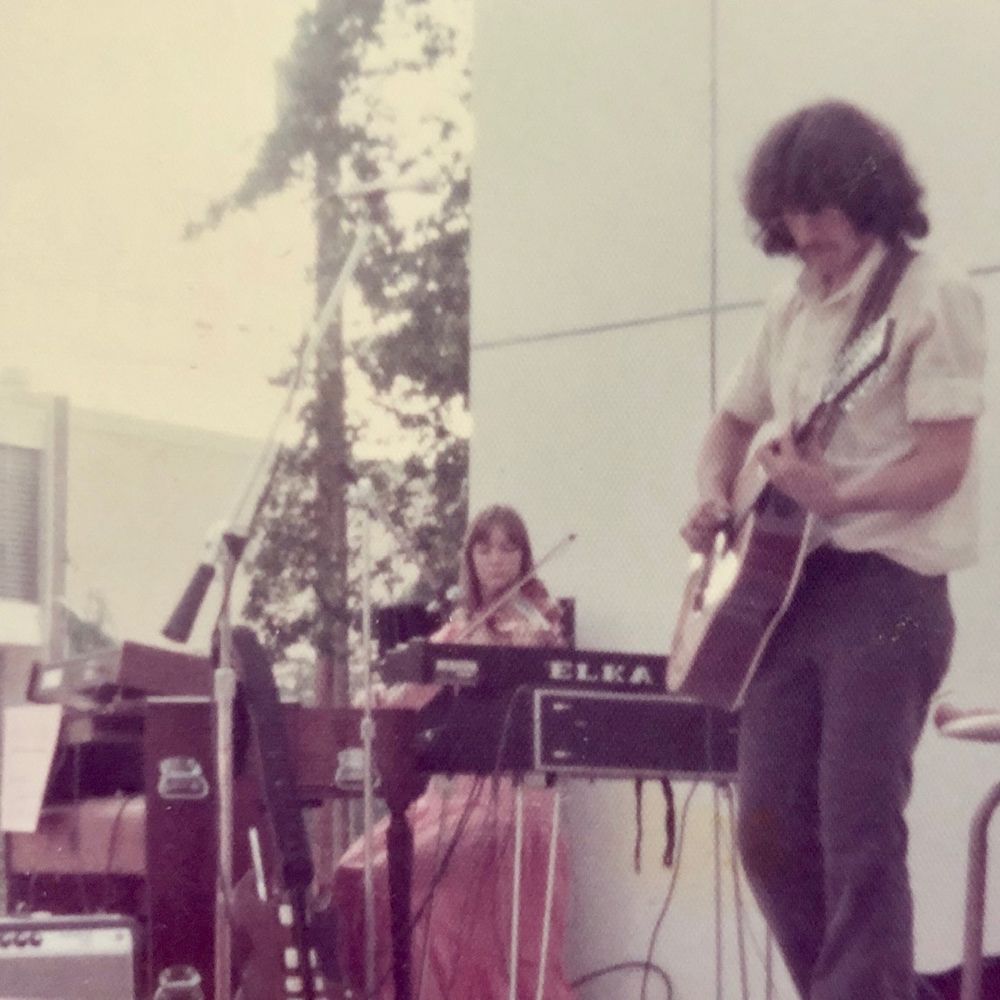 APOCALYPSE
Prog Rock Band 1976-1977, Chicago IL
Band Line up:
Michael Salvatori - Acoustic and Electric Guitars, Lead Vocals, Recorder, Band Leader and Composer
Gail Salvatori - Keyboards, Violin, Recorder and Backing Vocals
Tom Salvatori - Bass, 2nd Electric Guitar, Classical Guitar, Bass Pedals, Recorder
Scott Magnesen - Drums and Percussion
for more information visit Apocalypse