Jimmy Ryan
Chicago-based Electric Guitar legend
We are pleased to announce the signing of Jimmy Ryan, legendary Chicago-based Blues/Rock guitarist, to the growing artist roster at Salvatori Productions.
Known for a focus on harmony lead guitar work with brother Johnny, Jimmy has a rich history of recording and performing original Blues/Rock (along with some really great covers…) across Chicagoland and the Midwest with their band, The Flyin' Ryan Brothers, as well as his solo releases, over the years.
With our signing, we have captured the quieter side of Jimmy's composing and playing skills by announcing the release of his all-instrumental "The Healing Guitar" album, which features a more contemplative side of Jimmy, along with long-time band mate and percussionist Dan Van Schindel, in the studio.
And, while we were at it, we also showcase Jimmy's new works smack dab in the middle of nature by creating a 28-minute 'Healing Guitar in Nature Suite' certain to help you get the knots out of your rope…which is slang for meditative and soul soothing.
February 2023 - Yet another nice Jimmy Ryan review! Enjoy :) Visit: TakeEffectReviews.com
Enjoy reading a new press review of "The Healing Guitar" on SeaOfTranquility.org
Read a recent press review about The Healing Guitar release on Expose.org
Click here to listen and purchase the album.
To learn more about Jimmy and his legacy Blues/Rock/Harmony Lead guitar body of work, please enjoy a visit to his artist website: ryanetics.com
Paul Christian
AAA Heartland Singer/Songwriter, Austin, TX, USA
A native son of Chicago, Paul was born in Berwyn and grew up in Brookfield and then Arlington Heights. Paul is self-taught musically, learning the ins-and-outs of myriad instruments starting at age 13 and patterning his style after his heroes Alex Lifeson of Rush and Jimmy Page of Led Zeppelin.
Paul played in a few rock bands while growing up - before turning to the solitude of composing..."The Skins," "David and Paul," and bar scene favorites "The Dangerous Joe's" before marriage and fatherhood caught up with him. After kids, to keep a connection to his music interest, he formed a family band "Punching Rubber" which featured his daughter on clarinet/sax and his son on guitar, all the while periodically jotting down song ideas in his private little notebook.
Paul currently resides with his family in Austin TX.
Enjoy reading another wonderful review of Paul's That's Everything Album - visit SomethingElseReviews.com
Enjoy the recent review and in-depth interview about our very own Paul Christian on music e-Zine Music Web Express: mwe3.com
Buda (Gustavo Acioli)
R&B/Soul Singer/Songwriter, Porto alegre, Brazil
Buda. It started as a nickname during his High School years for Gustavo Acioli...a term of friendly affection for a chubby little boy with a big smile and small, squinty yet sparkly eyes. Being that he hasn't changed much since then, Gustavo's nickname stuck, because everyone still today knows him as Buda, everyone sees him as Buda, and everyone remembers him as Buda.
It was back into his earlier years though that little Gustavo fell in love with music and started writing his songs while learning to play the guitar. He grew up divided between two loves actually…first rock-'n'-roll and then second, music that informs the very heartbeat and pulse of his native land…Brazilian bossa nova. When Gustavo played his rough and distorted rock music, he felt little pangs of guilt; as if he was betraying his own Brazilian roots. And then on the other hand, anytime he would play the cool bossa nova rhythm of his homeland, he felt like he was betraying himself. A dilemma became evident as Buda grew up and various music genres began to inform his influences. He noticed that there was something missing in rock-'n'-roll too…a kind of swing he could only find in Brazilian music...
It took some time for Buda to carve out his unique and individual style. As his deep dive into American music continued, he began to feel a kindred connection to soul and funk music. When he started to fall in love with those genres, he began to discover an answer to his dilemma: that funk and samba are close cousins…branches on the same family tree. He soon figured out that if he could 'swing' like a Brazilian while playing soul music, the funky groove he started to feel would work for him like the samba drums.
Buda indeed crosses several genre lines to connect with rock-'n'-roll, funk, soul, bossa nova, swing and samba. And, in developing his own unique style, Buda puts a finger on the intersection of these genre lines and then proceeds to tie them all together in a neat little bow to produce his first recording that now formally and rightly introduces the world…to the music of Buda. Enjoy.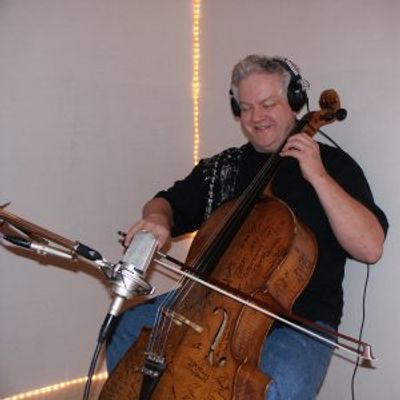 John Catchings
String Arranger and 'Cello, Nashville, TN USA
John has contributed string arrangements and has played the cello on dozens Tom Salvatori and Iris Litchfield tracks. A fixture in the Nashville Music scene, over the years John has organized arrangements and has introduced us to the best string quartet players available for our Nashville-based recording sessions.   
Iris Litchfield (1938-2014)
Grand Piano Composer, Bromley, UK
Iris was a mathematician turned composer and possessed a First Class Honours degree in mathematics from London University. She started playing the piano at the age of 5, back in the day when music teachers used to hit the hands of students every time a wrong note was played! In spite of this, Iris passed all the practical exams for the piano and clarinet.

Upon retirement from teaching Mathematics, Iris turned her attention to piano composition, and throughout her retirement years, she wrote beautiful and timeless contemporary classical piano music. In addition to her compositions released by Salvatori Productions, Iris had music released on CD's in the UK, USA, France, Germany, Holland and Korea. She also composed for Northstar Music, UK.
Iris' Biography - In Her Own Words:
I did not come from a musical family, although my mother loved music. It was her encouragement and enthusiasm which inspired me to make music a large part of my life.
I started playing the piano at the age of five, taught by a formidable lady who used to hit my hands with a ruler whenever I played a wrong note! In spite of this she got me through all the Piano examinations. I also spent many years playing the clarinet, but now play the Alto Saxophone instead.
I read Mathematics at London University where I obtained a First Class Honours Degree in Mathematics. I then took up teaching as a career. I climbed my way up the teaching ladder and eventually was Deputy Headteacher of a large comprehensive school. I took early retirement because of ill health. This is when I started to compose piano music.
During the last 14 years I have composed nearly 120 piano pieces. I started out creating a CD called LazyDays (piano and synth strings, available on CDBaby.com). Then I worked with Chick Holland of Lahaina, UK and together we produced 2 CDs - called Autumn Shadows and Nature's Symphony (piano and synth strings - both available in the UK from Tutti).
Since then, several important musical events have happened in my life. First of all, I became good friends with Robin Alciatore who is an award-winning Classical Pianist from California. She loved my music and produced a CD of some of my pieces which is called "Reflections" (solo piano, performed by Robin). I am honoured that she should wish to do this.
I also signed a Publishing Contract with a large UK Company called North Star Music. They have signed 20 of my tracks and hope to get my music into films, radio and TV. They too have produced a CD of my music called "Pause to Music."
Then, through a wonderful experience on the independent music website called Broadjam.com, I started working on collaborative CD projects with Tom Salvatori from Chicago, Illinois. Tom is an excellent Classical Guitarist and composer with similar stylings to mine and he suggested that we should produce a joint CD combining his guitar compositions and my piano compositions. Tom's publishing company, Salvatori Productions, Inc., owned along with his brother/producer Mike (also a renowned composer of video game scores), released our first collaborative CD "When Evening Falls" in 2007. John Catchings, an excellent string arranger and cellist from Nashville, served as arranger.
It is such a pleasure to work with Tom, Mike and John. The quality of the work produced is second to none as they will only release work on high quality recordings using the talents of real performing artists on real instruments. They have taught me the difference between real strings and keyboard synth strings. Learning this proved to reveal my work in the best light possible...as their collective focus on such a high level of quality makes such a significant difference in creating a timeless sensibility to the work produced. I soon found myself recording on a magnificent 1938 Steinway B Grand Piano in the most beautiful studio (Doz Studios, Tunbridge Wells) in the UK.
And the result? "When Evening Falls" was a smashing success with contemporary instrumental radio program hosts and grew to be ranked #2 on the NAR radio play charts, ultimately moving on to be voted the Best Neo-Classical Album of the year; a prestigious NAR Award that we were at once humbled and excited to receive as it was voted in by Instrumental Music radio program hosts internationally.
Salvatori Productions, Inc. is now part of a very creative and leading edge collaborative alliance to blend great digital art with great music as Fluid Stills(r) produced with a technology-based initiative called Long Glance Media. Their aim is to create an elevation of content for flat screen TVs (aren't we all tired of the fish aquarium and the faux fireplace)? The music from "When Evening Falls" was placed as Score for the Long Glance Media DVD release entitled "Fallen Tree," which features the brilliant and captivating art of Florida oil painter and educator Mick Brandenberger. Mick's digital art panels are presented with subtle changes that transition the Fluid Stills(r) from panel to panel in sync with the music score.
Continuing to support the initiatives of Long Glance Media led to our second Salvatori & Litchfield CD release in 2010; actually a 2-CD set called "Ever Ever On" that presents a follow-up CD of sorts; engaging alternating guitar and piano compositions in a similar vein to When Evening Falls – again featuring the warm and tender string arrangements of John Catchings…but this time produced with full-on chamber string ensemble! Our most ambitious effort to date!
Long Glance Media wound up releasing two DVDs of the subtle, gorgeous artwork of oil painter Bill Turner from Georgia (USA)...one scored with our solo new guitar and piano pieces and the second features the full chamber string ensemble in accompaniment. Released at the end of 2010, the CD and DVDs are just now starting to pick up momentum in garnering great reviews.
Then, John McEwen, a Church music director and Choral arranger, discovered my piece "Nature's Serenade" on Broadjam.com and asked, knowing that a dear friend of mine had written lyrics, if he could arrange it as a short Choral piece for his Church choir. This was completed in 2009 and it is called "We Thank You, Lord." It received its premiere performance by the Orpington Choral Group (UK)at their celebrated 2009 summer concert, and I was so very pleased to be in attendance as composer. The McEwen arrangement is published in the USA and available as an mp3 download by Salvatori Productions, Inc.
In March, 2012, Salvatori Productions released my CD of original compositions, a collection of 14 newly recorded pieces in a solo grand piano album called "Dream Clouds." I personally am most proud of the title track Dream Clouds, as Tom has so kindly pointed out to me - "it will forever be recognized as a new milepost in the growth you've achieved as a composer." - How nice!
In May, 2012, in collaboration with my music teacher and piano coach Patrick Meehan and Salvatori Productions, we released a collection of our favorite classical piano Duets (Piano Four Hands) - featuring Patrick and me...recorded on the beautiful Steinway at Clowns Pocket Studios. This full length CD release is entitled "Romantic Interludes." It represents Patrick's debut recording and it was such a joy to bring it to full realization as a CD release along with him.
In March, 2013, our work was featured in FANFARE MAGAZINE, a prominent US-based Classical Music bi-monthly periodical, with a joint interview with Tom and me along with several CD reviews (see a full reproduction of the article below).
And finally, in June, 2013 Salvatori Productions released my newest CD of original compositions, another collection of 14 solo grand piano pieces in an album called "Life's Journey." Again, both Tom (and I) agree that we are proud of the progress I'm developing in my composing with the piece "A Mountain to Climb." Tom likes to say it is yet another high water mark for me and tells people "A Mountain to Climb...is sublime" (which has a nice ring to it, probably because it rhymes :)

It is truly the blessing of my lifetime to be able to create music that gives enjoyment to other people. Thank you so very much for your interest in my music...and thanks for listening! As Tom always says..."Quietly Enjoy."
- Iris Litchfield, Bromley, UK June, 2013
"Working with Iris as a music partner and as her producer over the years was an extraordinary honor. And introducing her piano music to new audiences brings a fresh, clear voice of reason to the conflicted world we live in; a mature voice assured with sincerity, warmth and hope.

If ever you seek a place of solitude for reflection and respite, listen to Iris' music. It will elevate your spirit and bring peace to your heart. If you tell your friends about Iris' music, and then they tell their friends, surely it can become a catalyst for spreading peace across the continents.

Timeless in its styling, warm and tender in its delivery, Iris' quiet instrumental piano compositions represent a singular beacon of hope in the troubled world wherein we exist."

- Tom Salvatori, Salvatori Productions, Inc.
Enjoy reading Iris' 2013 interview with Kathy Parsons at MainlyPiano.com
Tom Salvatori
Contemporary Classical Guitar Composer, Wheaton, IL, USA
Tom Salvatori composes a deeply personal and intimate style of instrumental Nylon String Guitar music, which is quiet and soothing and helps people relax at the end of the day. Adults and children both listen to and enjoy his music during their quiet time or while they fall asleep at night. Most of Salvatori's music comes out sounding like quiet lullabies; probably because his favorite time to play and to compose is during the late night!
Tom was a First Place Winner of the Illinois Music Association Senior Open in 1973 in the Classical Guitar competition at the age of 15 under the direction of his high school music teacher, Duane Tutaj. Salvatori exhibited a mature strength in restraint in his performance of the Villa Lobos set piece, Prelude #3. Tom continued Classical Guitar studies while in college (Marquette University) with Ray Mueller, head of the Milwaukee Classical Guitar Society.
Since college, Tom has chosen a musical path of composing his own uniquely styled works for the contemporary Nylon String Guitar rather than one of stage performance and the study of the works of the Masters.
Published by Les Productions D'Oz (CANADA), Salvatori hopes to share his sheet music books with guitarists after they come home from playing their concerts: "I don't aim to compete with the masters and their virtuoso efforts from the concert stage. Rather, I'd love for my work to be thought of as a resource for quiet enjoyment...a respite at the end of a busy day. I would be most fulfilled, as a composer, if my work could be enjoyed in an intimate, one-on-one relationship with other players (and fans)…at home, when they decide to reach for just the right music to help them (and their loved ones) relax."
Visit Tom's website for news, blog posts and to keep up to date on releases: TomSalvatori.com
Enjoy reading a review of Tom's Seven Guitar Miniatures EP release on DMME.net
Enjoy reading a recent review and ind-depth interview with Tom on music e-Zine Music Web Express: mwe3.com
Stream Tom's Music on Pandora
Michael Salvatori, Wheaton, IL, USA
Producer, Arranger
Yes, we have Mike to thank for the high level production quality as he is likely the only producer in the history of the world to have the patience to record and produce Tom's guitar music! And yes, he's been busy for years with projects much much bigger than Tom 's guitaristic woodshedding - i.e. composing scores for the HALO and Destiny Franchises among others!
Mike's Portfolio of work is featured on his website MichaelSalvatori.com
APOCALYPSE
Prog Rock Band 1976-1977, Chicago IL
Band Line up:
Michael Salvatori - Acoustic and Electric Guitars, Lead Vocals, Recorder, Band Leader and Composer
Gail Salvatori - Keyboards, Violin, Recorder and Backing Vocals
Tom Salvatori - Bass, 2nd Electric Guitar, Classical Guitar, Bass Pedals, Recorder
Scott Magnesen - Drums and Percussion
for more information visit Apocalypse